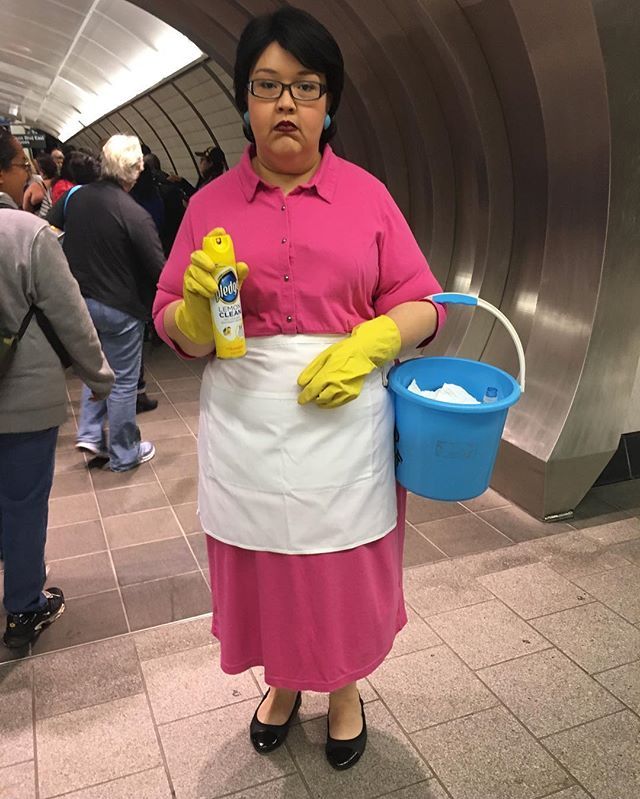 The character of Consuela was actually suggested to me by a close friend when I was looking for a cosplay idea for Emerald City Comic Con. I didn't want a character that was over sexualized, nor a character that would be common. I wanted a character that would fit my physique, simple enough to put together in time for that con and that would make people around me smile & laugh.

I initially found it daunting. In my mind, I always thought that cosplaying would entail months of making a costume from scratch. And I have to give to those cosplayers who create the most amazing costumes. In the end, I found that in order to stay as true as possible to the character, would mean for me to keep it as simple as possible. I bought a pink shirt & skirt, blue earrings, wig, and a white apron. I already had yellow gloves , bucket and Lemon Pledge.
What really made it come together were the little details such as how she styled her hair, her stance and straight face. Invoking her personality is what really makes this cosplay come to life. Over the years I have fine tuned the costume but it remains relatively the same. But the most important accessory is the passion to cosplay and the imagination to follow through.
The response that I receive at a convention is the reason why I choose to cosplay as Consuela every year. There are people who recognize Consuela immediately and want to take her picture. Then there are people who recognize my cosplay but are not sure exactly what character I am. After they think for a minute then they start to laugh and scream out "Consuela!" I'm approached  by young and old alike.  Whenever I dress up as Consuela people always smile and laugh. I like to think that I brighten their day.
At my first NYCC I met this young boy. He was dressed up as Doctor Who. He ran up to me and said that I had the funniest costume he has ever seen. Being a Whovian myself I told him that he was the cutest 10th Doctor I've ever seen. 
His father took a picture of us together and then went our own way. I ran into him again this year at NYCC and told all my friends he was the best Doctor Who.
Later that day his father sent me a message thanking me for taking a picture with him again this year and how I made his day by remembering him. I made him feel special.
The fact that I made this little boy's day and made him feel special is worth more than anything.